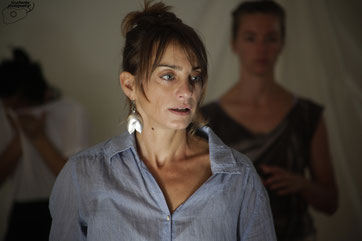 Francesca Pedullà
Fascinated by human relationships and curious about successful, unsuccessful and unfinished dialogues, she makes the body the subject and the object of my inquiry.
Based in Berlin, but always in movement,
she choreographes, performs and teaches throughout Europe, Israel, the USA, Canada, Brazil and Benin.
She is the artistic director of TRACES, study program for dancers based in Ouidah – Benin and co-curator of the European Nomadic College and the Sensing In Festival in Berlin.
http://www.francescapedulla
.org
For me, the complex and sensitive architecture of the body moving in relationship with space, time and other bodies, represents an archive of information to draw from for social
a

nd political investigation.
My latest artistic  and pedagogic work considers
the body as an access gate to an archive of ancient and new memories that are written into the body's process of inventing itself
. I attempt to hold a space where the body is provided with the time it needs to solve or resolve challenges and to reveal the intrinsic, poetic logic of its internal and external environment.